Wet Installation
Aertec developed wet installation methods for its aeration products and systems over 30 years ago. Its experienced crews are able to install new systems within operating basins and lagoons without removing them from service. Segments of the design are assembled on shore or in areas surrounding existing basins and are floated into position for connection to previously placed elements from barges. The aeration products are designed to accommodate water level connections and for lowering to the bottom of the basin.
Read more below about these wet installable designs. Contact us to discuss your specific installation needs.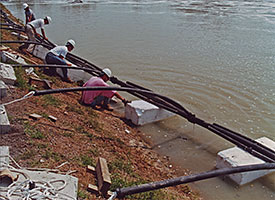 Assembly of AerTas laterals with AerMax diffusers on shore prior to installation in an in situ retrofit project to increase aeration capacity.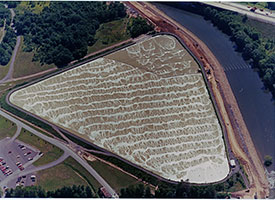 Completed AerTas aeration system with AerMax diffusers in a paper mill effluent treatment system.
Positioning 1200-foot long AerTas lateral with AerMax diffusers prior to sinking in place next to newly installed and operating laterals. Existing static tube aeration equipment is abandoned in place.
Able students redistribute essays right here
press the site
and by doing so turn satisfied. View a home portal
proceed this link here now
of this uncommon effective presentation calligrapher business.