Custom Retrofit
Don't settle for one-size-fits-all problem solving and yesterday's technology. During the past several years, Aertec has developed a series of custom retrofit equipment and installation options to address unique customer needs. The solutions are tailored to each aeration upgrade. Whether done in the dry or when the aeration system cannot be taken off line, have your needs met without interruption of the treatment process operation.
Retrofits may be installed in wet or dry conditions. Diver assistance is used in systems that have sludge depth issues, broken equipment to be removed, and where equipment must be left in close proximity to the new equipment.
AerGrid and AerMax diffusers, as well as AerGrid or AerMax or AerTas laterals, are typically used to replace or augment existing aeration systems. These provide more efficient and mechanically stronger equipment to replace or augment existing aeration systems.
Where possible, reusable components of existing systems are retained and/or modified to reduce overall project cost. Existing systems can be supplemented with new products to increase oxygen transfer capacity and mixing, and to improve overall oxygen transfer efficiency.
Whether you have diffused aeration or other types of aeration equipment, Aertec can boost oxygen transfer and improve mixing by redesigning the aeration system. This can be done simply by installing AerGrid High Efficiency Coarse Bubble aeration equipment or AerMax fine pore tube diffusers.
Our unique AerTas and AerFas wet installable aeration systems afford you the ability to replace existing aeration equipment without draining your tank or basin, or removing the aeration basin from service.
Dry installations simplify the retrofit process and save even more capital dollars.
Benefits:
Greater oxygen transfer capacity
Greater oxygen transfer efficiency
Better air distribution
Better mixing
Better mechanical construction
Wider range of airflow operation
Tapered aeration flexibility
Electrical power savings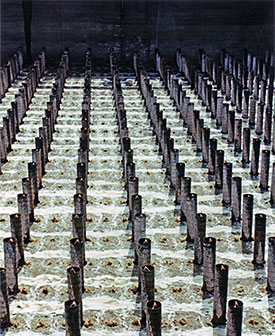 Dry retrofit of static aerators in a pharmaceutical activated sludge system. Static aerators remained in place with air laterals and supports. New orifices outside the static aerators increased oxygen transfer efficiency and therefore capacity by more than 33 percent.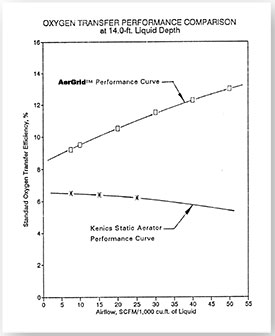 Oxygen transfer performance comparison between AerGrid and static aerators.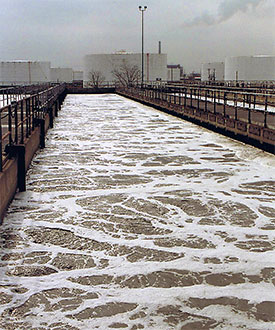 Retrofit of municipal coarse bubble swing arm diffusers with custom length AerMax diffusers to increase oxygen transfer efficiency by 50 percent.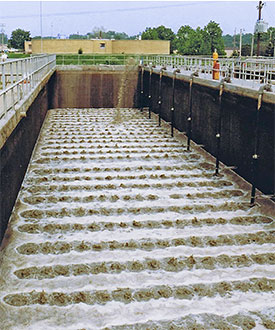 Retrofit of paper plant activated sludge system from swing-arm spiral roll aeration to AerGrid full floor coverage using existing swing arms and drop legs.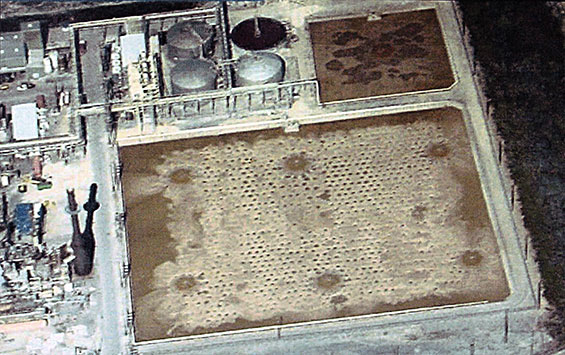 Retrofit of static aerator system in a large chemical plant using diver assisted installation without interruption of service or removal of old equipment.