Diver Installation
In recent years Aertec has enlisted the services of professional divers, certified by the Association of Diving Contractors International. They have proved beneficial to performing lagoon and basin investigations, demolition, retrofitting and repairing existing aeration systems. The diving crews are highly experienced with working in wastewater environments and have developed specialized equipment and diving systems to prevent infiltration, control temperature and protect the divers from otherwise dangerous conditions. Aertec has also modified its means and methods of installing its products and systems to enable diver installations. The photos on this page show several diver applications.
See below to learn more about these diver installable designs. Contact Aertec to discuss your specific installation needs.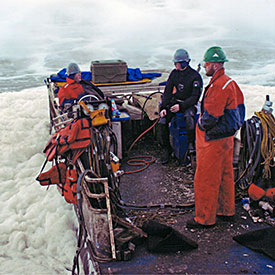 Diver construction barge and equipment positioning for installation of AerGrid equipment in a 25-foot deep paper mill wastewater basin.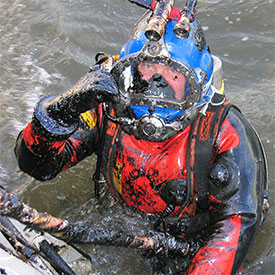 Diver assisted retrofit installation of AerGrid aeration equipment in a chemical process industry activated sludge basin with deep sludge deposits and existing broken equipment.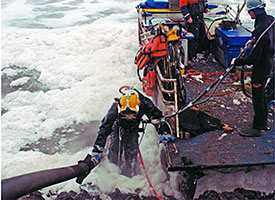 Diver preparing to lower an AerGrid diffuser lateral into position on the basin floor.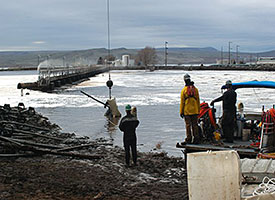 Removal of old broken aeration equipment using diver to demo and attach to crane cable.